e

PHC (PRIMARY HEALTH CARE CENTRES) - THE CORNERSTONE OF RURAL HEALTHCARE ARE PROVIDING ACCESSIBLE AND AFFORDABLE THROUGH IMPROVED CONSULTATION, DIAGNOSTICS, PHARMACY, EHR AND REFERRAL SERVICES, TELECONSULTATION WITH SPECIALIST DOCTORS THROUGH ePHC SOLUTION - MARCHING TOWARDS PAPERLESS OPERATIONS.
ePHC SOLUTION
Primary Health Care is the key component of our health care system and Dhanush through its (ePHC) solution addresses and coordinates the poor health outcomes through preventive and curative care in rural and remote areas. ePHC invests in comprehensive programmes and services like doctor consultation, specialist doctor consultation, diagnoses and pharmacy services, operating these efficiently and relentlessly pursuing promotive ways to improve processes and reduce costs.
ePHC Solution enables technology based healthcare services at ePHC. ePHC is an integrated curative and preventive health care to the rural population with emphasis on preventive and promotive aspects of health care services available to them and reducing their out-of-pocket expenditures for medical treatment.
SERVICES OFFERED THROUGH ePHC SOLUTION:
Basic Consultation
Capture the detailed EMR (Electronic Medical Record) of the patient
Specialist consultation through Telemedicine
Diagnosis and reports
Pharmacy dispensing
Patient referral to secondary or tertiary hospitals.
Organizing outreach programs
Providing IEC (Information, Education and Communication) to public on health aspects
ePHC PROCESS FLOW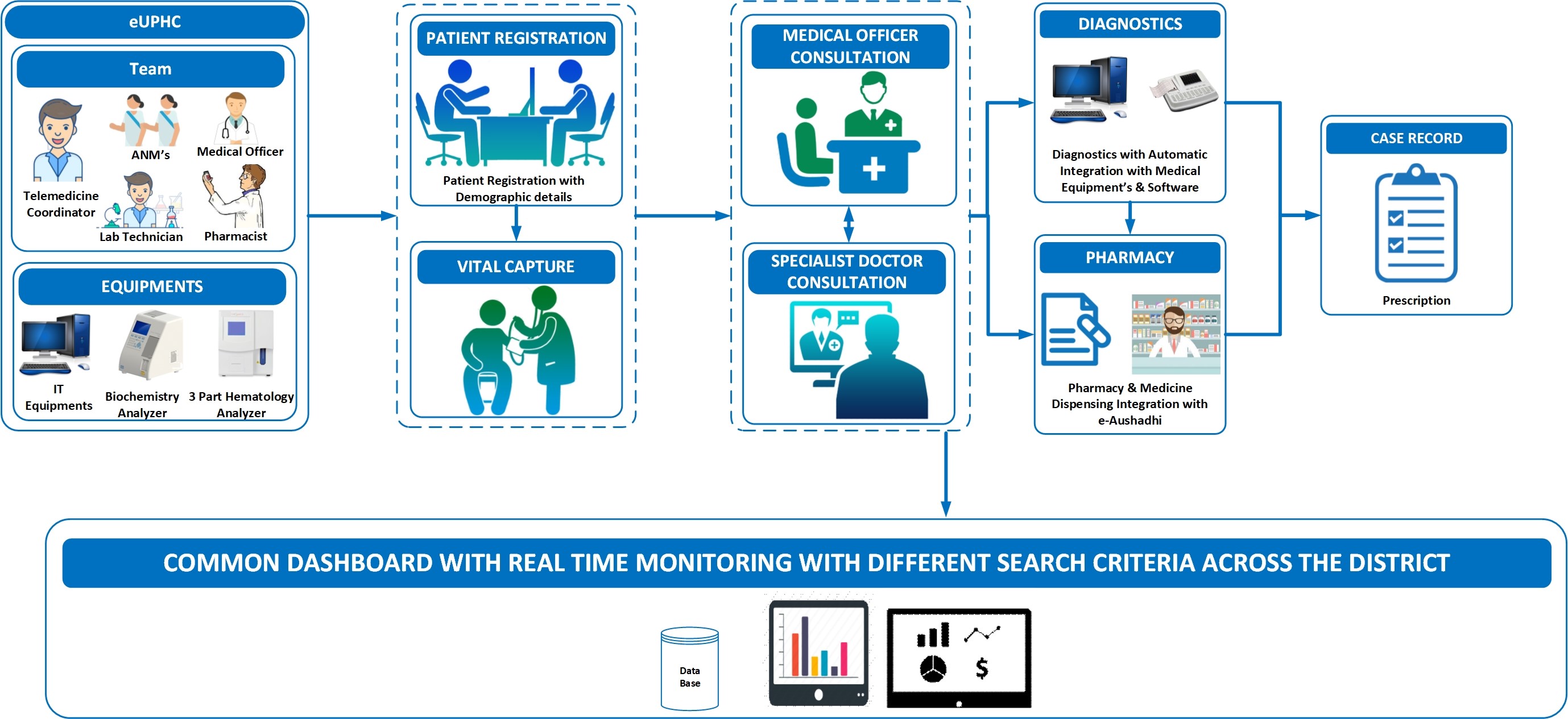 BENEFITS OF ePHC SOLUTION:
By identifying and implementing best medical practices with the aid of technology, control of expenditure and effective utilization of funds, ePHC not only provides quality health care but also achieves lasting improvement in cost structures
Caters to the patients the right care in the right setting at the right time as healthcare sources are available in the ePHC itself
Effective supply chain management planned based on the real time data
Works to achieve better patient health by promoting wellness and prevention at primary care level, thus reducing dependence on tertiary care hospitals
Secure and easy way to keep track of health history, providing access to lab results, prescriptions and vital health information reassuring accountability